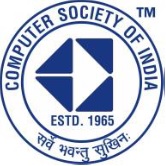 Computer Society of India is the first and largest body of computer professionals in India. It was started on 6 March 1965 by a few computer professionals and has now grown to be the national body representing computer professionals. It has 72 chapters across India, 511 student branches, and 100,000 members.
The Computer Society of India is a non-profit professional body which facilitates exchanging views & information and, sharing ideas. The wide spectrum of members is committed to the advancement of theory and practice of Computer Engineering and Technology Systems, Science and Engineering, Information Processing and related Arts and Sciences. The Society also encourages and assists professionals to maintain integrity and competence of the profession and fosters a sense of partnership amongst members.
CSI Student Branch at CVR College of Engineering was started on November 9th, 2015 with the goal of disseminating knowledge. It endeavors to offer technical, educational and professional advantages for students by arranging and organizing guest lectures, workshops, technical quizzes and, knowledge sharing sessions on recent trends and techniques in the area of Computer Science.
Prof. Badrinarayana (CSE Dept) serves as the counsellor, Dr. A.Vani Vathsala (CSE Dept), Dr.H.N.Lakshmi (IT Dept) and Mr.M.Raghava (CSE Dept) serve as Student Coordinators for CVR CE CSI student branch.